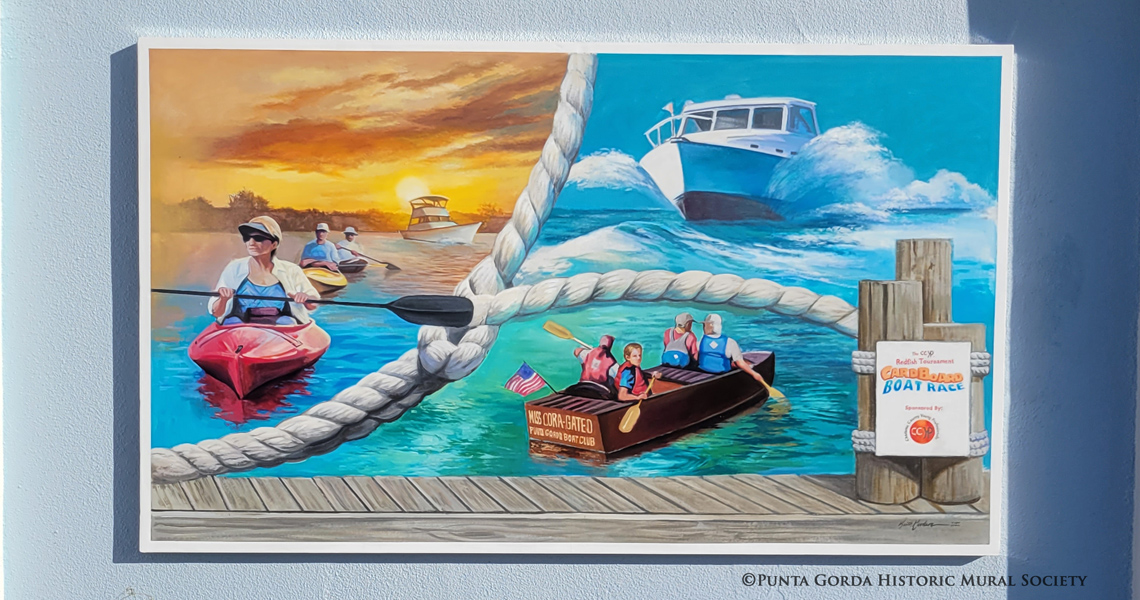 Year
2022
Artist
Location
Punta Gorda Boat Club Building
802 W. Retta Esplanade
Size
Three panels, each approx. 5′ h x 10′ w
Mural Creation Sponsors
John & Carol Byrne
Frank & Sue Anne Fambrough
Joe & Marilyn Harpster
Munich Reinsurance America
John C. Pickard
Punta Gorda Boat Club
Punta Gorda Sailing Club
Penny Stiffler
The Tea Ladies of the Punta Gorda Boat Club
Andy & Marilyn Trauth
David & Jennifer Trombley
Bruce & Lenora (Leo) Weisgerber
The Community
About the mural
This mural captures the history of the Punta Gorda Boat Club that began in 1951. The mural was painted in 2022 by artist Keith Goodson and consists of three panels.
Panel 1 presents the beginning of the club and its early years, 1960's and 1970's. The Club grew out of the City wanting to attract tourists. Hydroplane and runabout races were popular at the time, but to sponsor one, the City had to have a boat club. Featured in this panel is John Rose who was the sparkplug who birthed the Punta Gorda Boat Club and the regattas that drew people to Punta Gorda.
For the first 10 years, members of the Club met on Island 33, seven miles up the Peace River. They built a simple pavilion and would take their dayboats up the river to congregate. In addition to Island 33, members frequently trailed their vessels to other locations around southwest Florida.
In 1960 the club built its original building, depicted in the first panel, on the current site on land leased from the City of Punta Gorda. The construction debt was primarily paid down over many years through Bingo night fundraisers.
Panel 2 presents the Club during the 1980's and 1990's. The building was enlarged with two additions to accommodate the increase demand for membership. It's updated look is captured in this panel. Also included is the annual "sunflower" raft-up that was a highlight for the club for several years.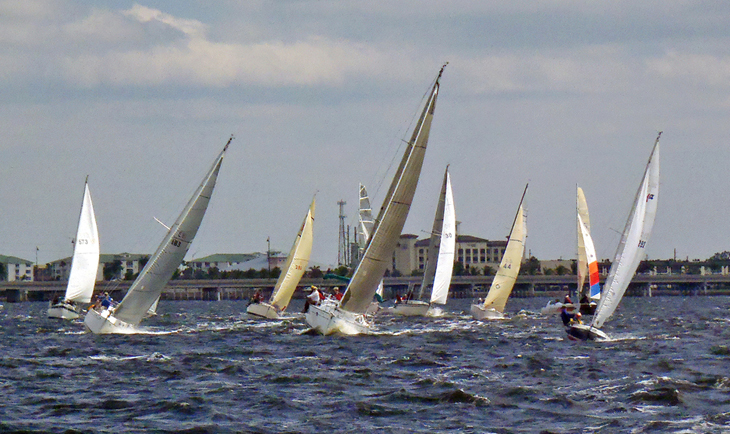 Regional sailing regattas, co-sponsored with other groups, were popular enough to be televised locally. When not racing, Club members expanded their cruising area with overnight cruising — east to the Bahamas and west to the panhandle.
Panel 3 presents the Club's activities from about 2000 until present time as it continued to evolve and expand. For several years, the Club entered vessels in the annual cardboard boat races. Overnight sail and powerboat cruising grew with the build-out of Punta Gorda Isles. As it has been from the birth of the Club, day boating remains popular, as is the most recent Club addition of kayaking.
This mural was dedicated on March 23, 2023.