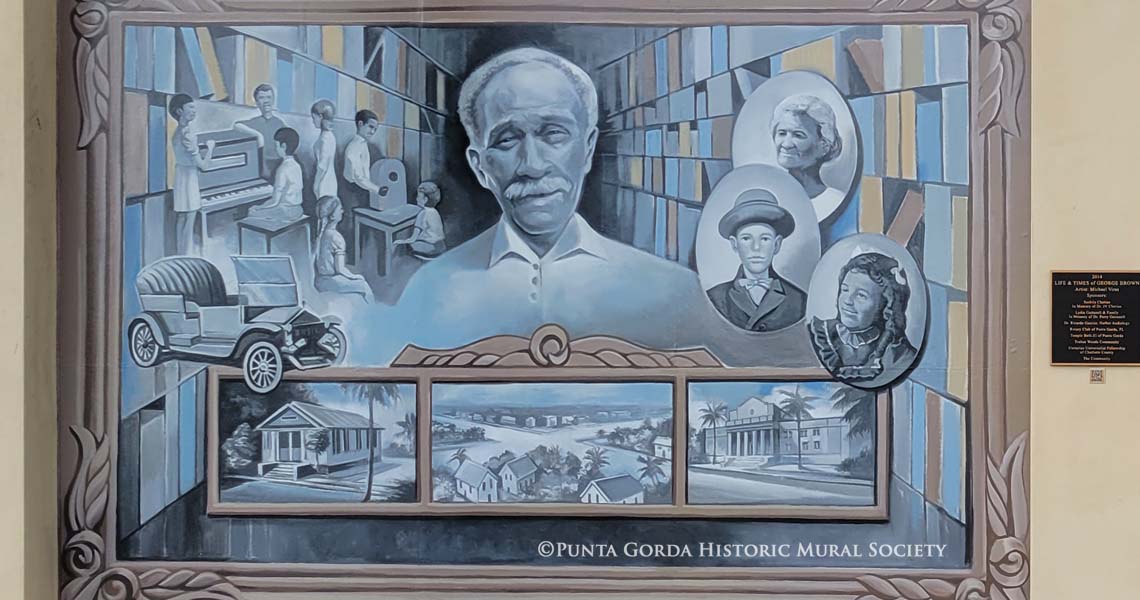 Year
2022
Artist
Location
Historic Charlotte County Courthouse
227 Taylor Street
(Olympia Avenue privacy wall)
Size
Two panels, each 7′ h x 10.75′ w
Mural Creation Sponsors
2022:
Shively Charitable Foundation – Lt Col Scot & Jill Shively
The Punta Gorda Historic Mural Society
2014:
Sushila Cherian in memory of Dr. JV Cherian
Lydia Gattanell & Family in memory of Dr. Perry Gattanell
Dr. Ricardo Gauthier, Harbor Audiology
Rotary Club of Punta Gorda
Temple Beth-El of Punta Gorda
Trabue Woods Community
Bethel A.M.E. Church
St. Mark Missionary Baptist Church
St. Mary Primitive Baptist Church
Charlotte County NAACP, Branch #5093
Blanchard House Museum of African American History and Culture of Charlotte County
Trabue-Woods Economic Development, LLC
Unitarian Universalist Fellowship of Charlotte County
The Community
About the mural
George Brown (1868-1951), an African-American entrepreneur, was a master carpenter and cabinet maker. With this skill and mentoring from his friend Capt. Dewey owner of the Charlotte Harbor Lighterage Co. Brown saw the opportunity to start his own business building & maintaining barges for phosphate transport on the Peace River. He and his partner Peter Miller began the Brown & Miller Shipyard in 1897. Brown hired his workers based on ability without regard to race. He paid good and equal wages to all in return for their hard work. He is said to be Florida's first equal opportunity employer.
In 1915, Miller sold his half of the business to Brown. Brown expanded the shipyard, launching the Cleveland Marine Steam Ways in 1916. This expanded shipyard was capable of handling large vessels for Capt. Dewey as well as prominent yachtsmen who wintered in Charlotte Harbor.
A strong family man, George was devoted to his daughter Ruth who died at a young age and to young Charley Johnson who he and his second wife Tommie adopted. George and Tommie welcomed children, both black and white, into their home. As a man of considerable means, he owned one of the first automobiles, player pianos and radios in the area and kids would flock to his home to share in these marvels.
Over the years as his business grew, he bought many investment properties in Punta Gorda. He was reported to at one time own half of the land of Punta Gorda. In 1921, he donated land for the all-black Masonic Tuscan Lodge 92. He also served on a number church boards. In 1924, he sold a parcel of land to the newly formed Charlotte County for the location of the first Charlotte County courthouse. This is the site where this mural is located.
The mural was dedicated on February 20, 2014.
In 2016, the Society noticed the mural was separating from the wall due to water intrusion. The solution was to install aluminum panels over the mural walls and photos of the mural were printed on vinyl and applied to the panels, thus saving the mural.
In 2021, the Society hired artist Keith Goodson to create a more permanent solution since the vinyl prints were deteriorating. Using the original design, Keith repainted the mural panels on mural cloth in his studio. They were installed in January 2022 creating, once again, a hand-painted version of the mural.