Year
2007
Artist
Location
Office Building
126 Nesbit Street (facing the Charlotte County Justice Center)
Size
6′ h x 80′ w
Mural Creation Sponsors
2007:
Charlotte Community Foundation
2001:
Dr. Robert & Joan Andrews
About the mural
The seven "post card" panels depict scenes of Punta Gorda from the early 1900's to the 1930's. The first card shows the fountain that was located in the center of Marion Avenue. The spring source was moved to the corner of Marion and Taylor where it is still in use.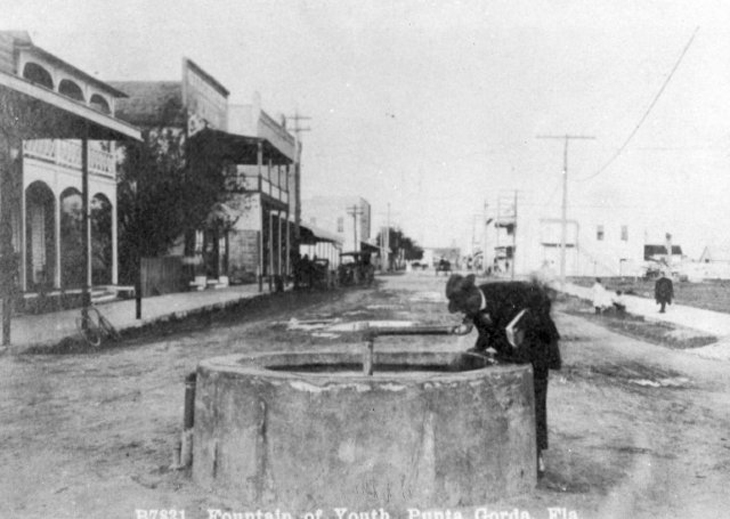 The next panel shows "Teddy" Roosevelt in town fishing and hunting. It shows him driving down Marion Avenue on his way to the fishing dock.
Next in line is the former fishing pier where boats unloaded their catches, then a popular family owned bakery, a view of early "downtown," the party held for the opening of the Barron Collier bridge, and the "tin can" trailer park that was once located in what is now Laishley Park. The trailer park residents were moved by the City to Buttonwood Park on Aqui Esta Drive.
This mural was originally completed in 2001 (dedicated on February 14, 2001) and was located on the east side of the building at the corner of E. Marion Ave, and Nesbit Street. The building was destroyed by Hurricane Charley on August 13, 2004. The mural was recreated by the original artist after the building was reconstructed. It was rededicated on April 19, 2007.